eCat provides search functionality for items on state contracts.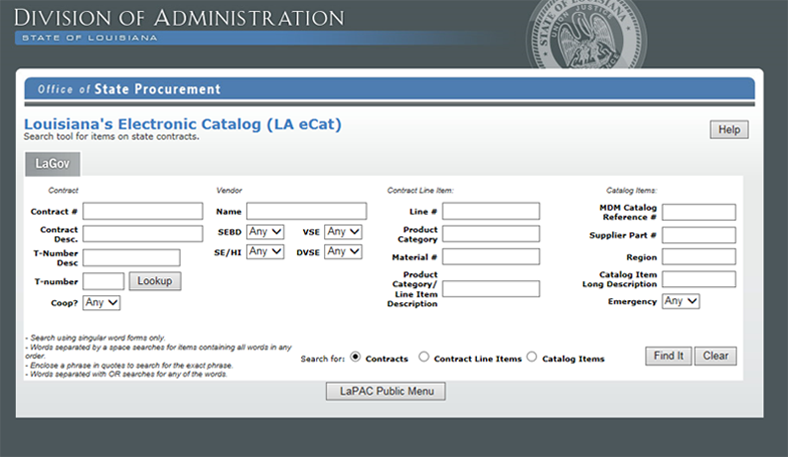 Wildcard searches are the default and "*''s should NOT be used.  (For example, entering car in the vendor name will find all vendors with the letters 'car' any place in the vendor or distributors names, so 'Mohawk Carpet', Homecare, and 'Golf Carts' will all be found, along with a variety of others.)
Most of the text boxes (Contract #, Vendor Name, etc.) work in the same way.  A few, such as Line Number, Class, and Subclass, are not wild cards in order to avoid unwanted results. 
Examples of Data Entry Options
Examples in Contract Description field
Single or partial Word,
(Wild card search is assumed)
[car]
Since Wildcard is assumed, this will find words like Carpet', Homecare, datacard and 'Golf Cars'
Multiple Words
Words can be in any order. Some fields can search by up to 8 multiple words.
[computer periph] returns the same results as [periph computer ]
Multiple Words, One or the Other
Insert 'OR' between words to use this technique.
[Periph or computer]
Exact phrases enclosed in quotation marks.
["computer periph"]
LaGov Tab
Criteria Name
Description
Typical Values
Special Instructions
Contract
Contract #
Contract Number.  In LaGov, this is 10 digit number. 

4400000012
Contract
Contract Description
Brief description of the contract.
Safety vests
Contract
T-Number Desc
(T-Numbers are used to link related contracts together.)
Description of the T-Number associated with the contract.
Computer or khaki
Contract
T-Number
T-Numbers are used to reference related contracts.
OYD01 'or' not allowed
Contract
Coop?
Indicates whether the contract is available for cooperative procurement.
Vendor
Name
This searches the prime vendor's names and also their Distributors Vendors' Names.
'3M'  or 'Chauvin Bro'
Vendor
SEBD
Small and Emerging Business Development
Any/Yes/No
Vendor
SE/HI
Small Enterprise/Hudson Initiative
Any/Yes/No
Vendor
VSE
Louisiana Initiative for Veteran Owned Small Enterprise
Any/Yes/No
Vendor
DVSE
Louisiana Initiative for Veteran and Service-Connected Disabled Veteran Owned Small Enterprise
Any/Yes/No
Contract Line Item
Line #
Can either be the product category line if it has catalog items, otherwise contract line item.
" 50 "
No wild-card search and single entry
Contract Line Item
Product Category
UNSPSC Product Category code.  6 digits
No wild-card search and single entry
Contract Line Item
Material #
SRM material number - only applies to contract lines where there are no catalog items.
No wild-card search and single entry
Contract Line Item
Product Category/Line Item Description
If Catalog Items exist , this is the Product Category Description, otherwise it is the  Line Item Description. 
For Catalog Items, it is the UNSPSC Product Category Description.
Catalog Items
MDM Catalog Reference #
Unique MDM Catalog Reference Number.
Catalog Items
Supplier Part #
Supplier Part #, if applicable.
Catalog Items
Region
Unformatted text field for use by LaGov.
Catalog Items
Catalog Item Description
Long description of the catalog item. 
Catalog Items
Emergency
Indicates if it is an Emergency Item.
Any/Yes/No